The Club send's it warmest wishes to Sir Stirling Moss, who celebrates his 90th Birthday today -17th Sept.
Stirling won the very first Aintree International on the 29th May 1954 followed by the first Formula 1 race on 2nd Oct 1954, both in his Maserati 250F.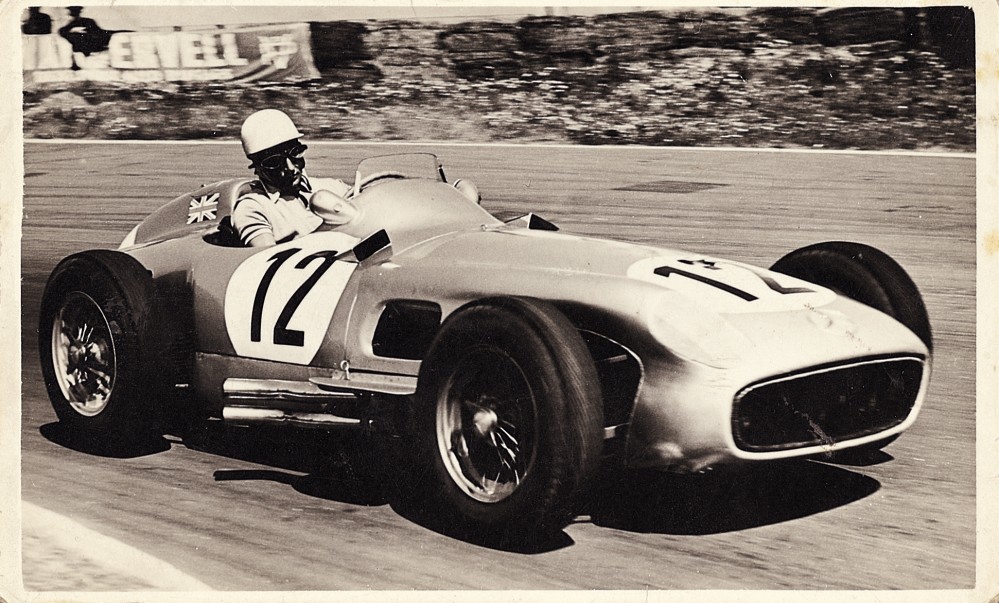 The following year, he won his first Grand Prix, the British, held at Aintree for the first time in July 1955 in his works Mercedes W196 "Silver Arrows", winning by 1/10th second from Fangio after a 270mile , 90 lap Grand Prix.
In 1957, when the race returned to Aintree and also taking the title "Grand Prix d'Europe, Stirling, along with Tony Brooks, as they had swopped cars during the race, established another first being the first all British winners of a Grand Prix driving the British Vanwall Formula 1 car.
Stirling also won the Aintree 200, which was the leading non Championship Formula 1 event in the UK until it ceased in 1964.
We have had the pleasure of Stirling's company on several occasions.
In 1997, we celebrated the 40th Anniversary of the 1957 win with a Gala Dinner at The Philharmonic Hall, Liverpool with a Grand Prix Forum with Stirling, Tony Brooks and Roy Salvadori.
In 2004, we celebrated the 50th Anniversary with The Aintree Festival in Nov 2004, when we opened up the 3 Mile Grand Prix Circuit for the first time since 1964. Stirling was our principal Guest along with his Wife Susie at the Two Dinners we held at the circuit with over 500 guests attending the Black Tie events.
Despite recovering from his back injury, we persuaded Stirling to drive Peter Neumark's 250F along with the famous Appleyards XK120 around the circuit, which was televised live on BBC1.
We wish the Old Boy a continued recovery from his illness and an enjoyable period of celebration with family and friends.